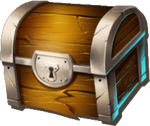 Locations
The first type of Chest found in the game. Wooden chests can be found in the following dungeons: City Sewers, Forbidden Meadow, Gloomy Manor, and Haunted Forest.
They can also be bought from the Trade House
Wooden Chests can be automatically opened for 25 .
Note: Since the release of Special Orders, Wooden Chest Keys can be found cheaper in the Trade House
Blueprints
Weapons:
,

, White Dagger
Garments: Elven Boots, Moon Boots,

, Venomous Hands
Accessories: Colored Powder, Elixir Drops,
Special Resources
Wooden chests may contain 10, 15, 20, 30, or even (very rarely) 50 special resources. Types of resources: Shiny Gem

, Elven Dew

, Iron Wood

, Burning Ember

.
Items
The following items have been found in Wooden Chests. In terms of quantity, expect 2-3 items per chest when their quality is

, 1-2 when

, 1-2 when

, and 1 when

.
Weapons: Arquebuse, Bishop Staff, Faery's String, Falcon Eye, Heavy Mace, Hunting Axe, Morning Star, Musket, Pistol, Pole Axe, Rapier, Sledgehammer, Trident, White Dagger.
Garments: Buckle Hat, Elven Boots, Full Helm, Fur Loafers, Half Plate, Light Boots, Meshed Gauntlets, Moon Boots, Padded Gloves, Robin's Hood, Venomous Hands, Long Gauntlets.
Reward probabilities
Based on data from 40 wooden chests opened at once:
8 chests contained blueprints,
5 contained epic items (1 item per chest),
9 flawless items (1 or 2 items per chest),
6 good/great (1-3 per chest),
4 legendary (1 per chest),
12 resources (10-30 per chest).
---