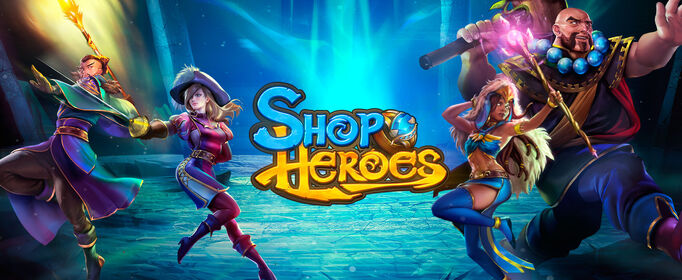 Other Language:English|German |Chinese
Shop Heroes is a cross platform free-to-play game with optional micro-transactions, developed by Cloudcade, Inc. Shop Heroes is a fantasy shop-management game where players craft and sell equipment to visiting adventurers, send these adventurers on various quests, and collaboratively build a city with friends to unlock new content.
The game was soft-launched on May 26th, 2015 exclusively on Facebook during the game's beta period. The game was later released in beta on Google Play in July 2015 and closed beta in August 2015 for iOS players (through TestFlight).
The game officially launched in September 2015 on Facebook, iTunes and Google Play and later launching on Amazon , on Kongregate in October 2015 and on Steam in August 2016.
Currently web browser based versions of the game are not supported due to Unity issues and people with web browser accounts such as on Kongregate are encouraged to port their account to Steam through the Support Request Page of Cloudcade's website.

Note: because of a lack of editors, this wiki is missing probably a third of the pages it should have, another third is outdated by at least 1 1/2 years and the rest is actually up-to-date-ish. If you need more up-to-date data, check out the spreadsheet . (The wiki can of course always use some more editors to catch up on this backlog; however, if you start a new page, please finish all of it by using the info on the spreadsheet for that item. For items, follow the format found on Base Item Page)
External Links
Official pages:

| Website | Forum | Facebook |
| --- | --- | --- |
| | | |
Play on:
Web
Mobile
Steam
Extra's:
Activity feed