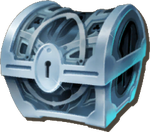 Iron Chest
The third type of Chest found in the game. Iron chests can be found in the following dungeons: Desert of Doom, Plague Lake, Dead River, and Unholy Land.
They can also be bought from the Trade House
Iron Chests can be automatically opened for 100 .
Note: Since the release of Special Orders, Iron Chest Keys can be found cheaper in the Trade House
Blueprints
Weapons:
Garments:
Accessories:
All: Aegis, Berserker's Axe, Black Stock, Bulwark, Conqueror, Demon's Blood, Eagle Eye, Fire Proof, Frozen Grip, Frozen Harp, Frozen Helm, Hammer Fist, Luna Rod, Mage Robe, Magic Shuriken, Magical Codex, Noble Plate, Paladin's Helmet, Phantom Katar, Plated Tunic, Poison Tip, Self-loader, Shadowed Gloves, Swift Seed, Turning Token, Vorpal Sword, Winged Sandals.
Special Resources
Iron chests may contain 8, 12, or 16 special resources. Types of resources: Frozen Core
, Liquid Fire

Items
The following items have been found in Iron Chests. In terms of quantity, expect 2 items per chest when their quality is

, 1 when

, 1 when

, and 1 when

.
---