This article is a stub.

Please help Shop Heroes Wikia by expanding it, adding pictures, and improving existing text. If you are adding value, please do not forget to remove any boost applied (e.g. for building investment, remove the mayor boost on the price)
About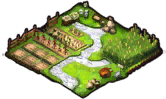 One of the starter buildings.
Unlocked after investing 700 coins to repair the Town Hall.
The Garden serves as a resource generation building for the Herbs resource.
Leveling up the Garden will permanently increase the hourly regeneration rate.
Boosts will provide temporary increases in the regeneration rate as well as providing instant resource gains.
Boosts
Level
Level Cost

Effects
Minimal investment

Boost
0
New/h
4
30/h
+4
200
80/h
26
30/h
+4
1.3K
85/h
70
35/h
+4
3.5K
90/h
100
35/h
+5
5K
95/h
300
40/h
+5
15K
100/h
400
40/h
+5
20K
105/h
500
40/h
+6
25K
110/h
500
45/h
+6
25K
115/h
600
45/h
+6
30K
120/h
750
50/h
+7
37.5K
126/h
2K
50/h
+7
37.5K
132/h
2K
55/h
+7
100K
138/h
3K
55/h
+8
150K
144/h
6K
60/h
+8
300K
150/h
6K
60/h
+8
600K
156/h
13K
60/h
+9
650K
162/h
20K
65/h
+9
1M
168/h
65/h
+9
1.5M
174/h
30K
70/h
+10
1.5M
180/h
30K
70/h
+10
1.5M
190/h
75/h
+10
2M
200/h
80/h
+12
2M
210/h
50K
85/h
+12
2.5M
225/h
50K
90/h
+12
2.5M
240/h
50K
95/h
+15
2.5M
255/h
100/h
+15
3M
270/h
110/h
+15
3M
285/h
115/h
+18
5M
300/h
120/h
+18
5M
315/h
125/h
+18
5M
330/h
100K
130/h
+20
10M
345/h
100K
140/h
+20
10M
360/h
145/h
+20
15M
375/h
250K
150/h
+25
25M
395/h
160/h
+25
50M
420/h
170/h
+25
50M
445/h
180/h
+30
100M
470/h
190/h
+30
100M
495/h
200/h
+30
100M
525/h
1.25M
210/h
+35
250M
545/h
220/h
+35
250M
570/h
230/h
+35
250M
595/h
240/h
+35
250M
620/h
250/h
+35
300M
645/h
260/h
+40
300M
675/h
270/h
+40
300M
705/h
280/h
+40
400M
735/h
295/h
+40
400M
765/h
305/h
+40
400M
800/h
320/h
+50
Level
Level Cost

Effects
Minimal investment

Boost